Whether you're deep in to a personal project (such as starting your own business, creating a new invention, or making a movie, etc), just starting out on a new venture, or just looking for some good old inspiration, motivational stories and inspirational stories can be just what you need to give you a bit of a boost.
Sometimes it's useful to hear the stories of people who we admire, people who have come before us, and people who have done great things, so that we know others have been through similar (or harder) struggles. This can help us to focus and realise that what we want is within reach, no matter how difficult the circumstances.
So here I have compiled a list of the best true motivational stories to help give you that juice you need. My hope is that these real life inspirational stories encourage you to keep going when things feel tough, to realise that there is always a way, and that if you want something, you have to fight for it.
While you are reading these motivational success stories, be sure to take notes. Don't just read them passively. This does not have to be just another list of a bunch of inspirational people with inspiring stories. Ask what you can learn from each inspirational story and then write it down. Ask yourself what the inspirational messages are in each story.
Notice how the people in this list overcame adversity. Notice how they never gave up on what they wanted. Their life stories can inform you as you go forwards. You can remember what they did and then do the same if a similar situation applies to you.
So let's crack on with these real life inspirational stories (in no particular order) from inspirational people and learn some valuable lessons!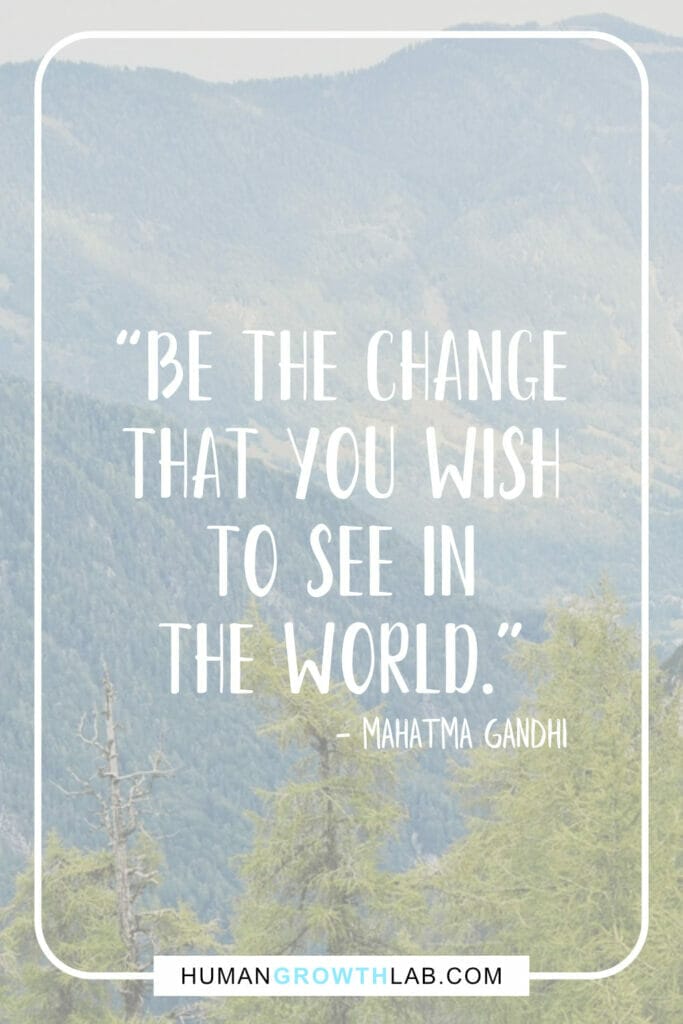 Dashrath Manjhi's true inspiring story
Dashrath Manjhi was born in to the lowest rung of India's caste system in Gehlaur village, India, and ended up working in coal mines.
When he was an adult, his wife was injured and died because the nearest doctor was in a town 34 miles away.
Because of this experience, Manjhi decided that he was going to make a new roadway through a ridge of hills, in order to make his village more accessible.
Manjhi ended up carving a 110m long path, completing it in 22 years (between 1960 and 1982), using only a hammer and a chisel.
Ultimately, Manjhi's road reduced the distance between the start and finish areas from 34 miles to 9.3 miles.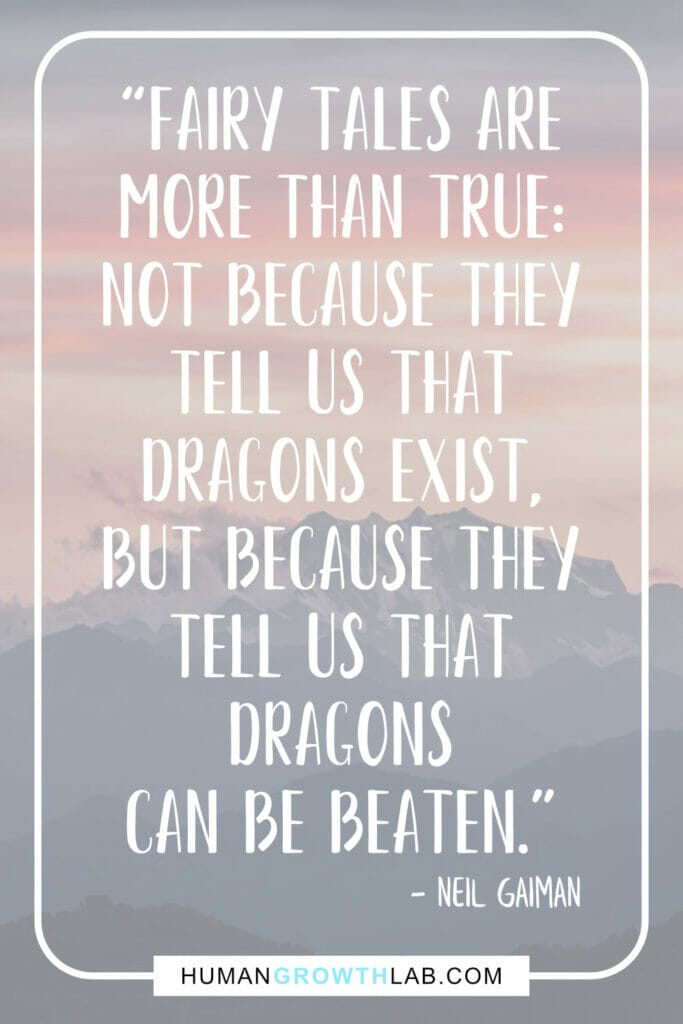 WANT TO BE INSPIRED EVERY DAY?
Get 1 YEAR OF INSPIRATIONAL QUOTES, delivered straight to your e-mail inbox daily!
Harriet Tubman's encouraging story
Harriet Tubman's is one of the most encouraging and inspiring of these motivaitonal stories.
Born as a salve in Maryland, Harriet Tubman received numerous injuries at the hands of her owners over her time spent in slavery. In 1849, Tubman escaped to Philadelphia, but returned to Maryland to rescue her family.
Working by night and in secrecy, Tubman rescued members of her family, bringing them out of the state with her. She eventually brought other slaves with her, making 13 missions and rescuing somewhere around 70 slaves.
When the Civil War began in America, Tubman became the first woman to lead an armed expedition.
Harriet Tubman's devotion to her cause of freeing as many slaves as possible using the Underground Railroad, and then helping them to find work, means she easily makes this list of real life inspirational stories.
Desmond Doss' incredibly inspirational story
Desmond Doss was a United States Army corporal who served as a combat medic in World War 2. Doss was a conscientious objector, and was picked on by his fellow soldiers, who labelled him a coward. He was made fun of because he did not want to carry a gun and because he did not work on Saturdays because of his religious beliefs.
He became the only conscientious objector to receive the Medal of Honor when he single-handedly saved the lives of 75 men in the Battle of Okinawa, in the process, having his left arm fractured by a sniper's bullet and 17 pieces of shrapnel in his body.
Wanting to help in the war effort whilst sticking to his personal beliefs, suffering the abuse he did, and then going on to single-handedly save as many men as he did, means that Desmond Doss' story deserves to be considered as one of the most inspirational stories in history.
Oprah Winfrey's story is one big inspirational message
Oprah Winfrey has built a billion-dollar empire, and, in 2017, was placed 1st on Forbes' list of America's richest female entertainers.
But life was not easy for Oprah growing up, and she went through a great deal of adversity to have this real life inspirational success story.
You see, Winfrey originally grew up in Mississippi with her grandmother before she was sent to live with her mother in Wisconsin when she was 6. This move was disruptive and she felt alone and abandoned. But, before she could get comfortable in Wisconsin, she was sent to live with her father in Tennessee, before moving back to live with her mother again.
During this time, Winfrey was abused by her family members. Her grandmother whipped her, leaving her with welts over her body. When she was 9 years old, a 19 year old cousin of hers raped her. She was also sexually assaulted by other relatives between the ages of 10 and 14. Winfrey became pregnant aged 14 and considered committing suicide. Ultimately, the baby was born prematurely and died in the hospital. Winfrey knew this was her second chance at life.
Despite her difficult childhood, Winfrey went on to become one of the most powerful women in in the world and is an inspiration to the world.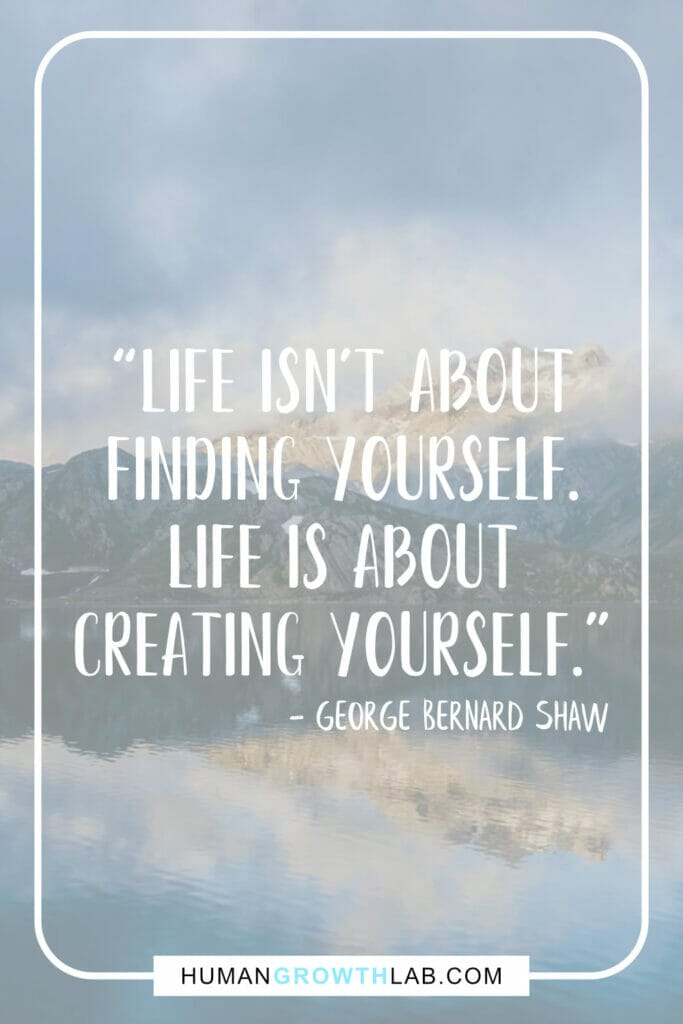 Colonel Sanders has one of the most motivational success stories
Earning his place on this best motivational stories list is KFC's Colonel Harland Sanders.
Sanders worked a number of jobs, such as a steam engine stoker, filling station operator and an insurance salesman, but it wasn't until his time running his restaurant in Kentucky that he made what would make him famous. While there, he developed his secret recipe and method of cooking chicken.
Sanders proceeded to go around USA trying to sell his chicken recipe to restaurants. His idea was to give them the recipe for free and then take a percentage on each chicken dish sold.
Colonel Sanders was rejected 1009 times before he got his first "yes".
Colonel Sanders proves that sometimes you just need to keep going if you want to be successful.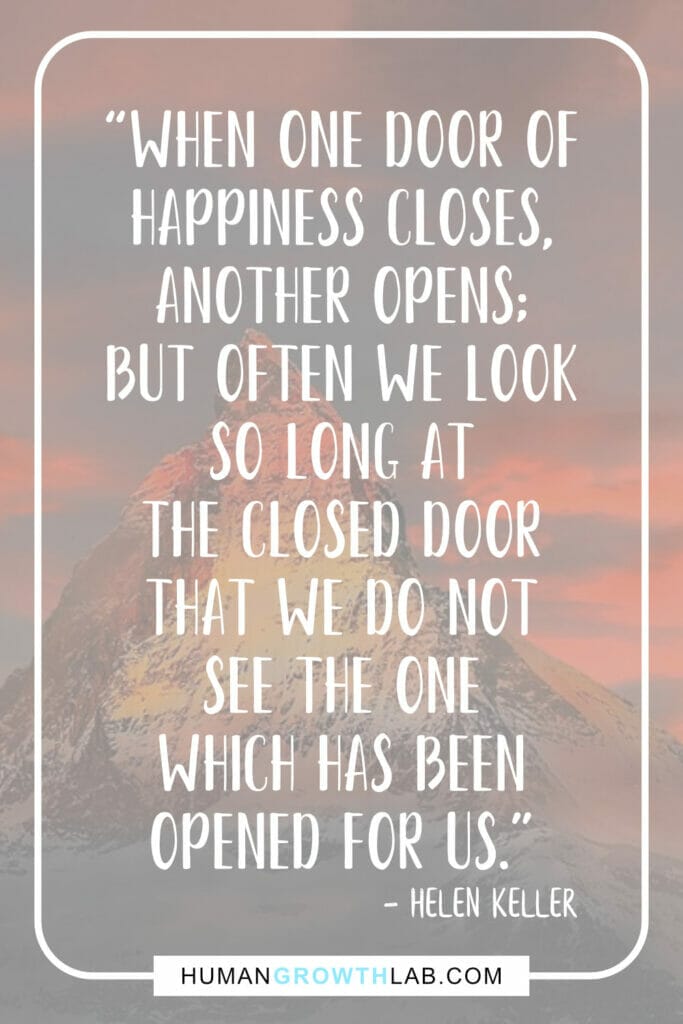 Rudy Ruettiger's true motivational story
Made famous by the movie "Rudy", where he was played by Sean Astin, Rudy Ruettiger's college football career must be one of the best motivational stories to ever have been told.
Growing up, Ruettiger dreamed of playing for the Notre Dame Fighting Irish American football team. He was considered to be short (5'6") and certainly not a typical American football player.
But after some extreme levels of hard work, Ruettiger managed to get on to the Notre Dame scout team, helping the varsity team practise for games.
Ruettiger was noted for his levels of hard work and desire to play for the team, and coach Dan Devine decided to put Ruettiger in to the final game he could possibly play in.
Ruettiger ended up getting a sack on the game's final play, and became the first player in Notre Dame football history to be carried off the field by his teammates.
Sylvester Stallone's real life success story
Sylvester Stallone's true inspirational story is stuff of legends among filmmakers and screenwriters.
A struggling actor, Stallone was so broke at one point that he sold his wife's jewellery. He ended up becoming homeless, sleeping in a bus station, and struggled to afford food.
In the end, he managed to get a small amount of money in his pocket by selling his dog for $25.
Soon after, Stallone decided to take his career in to his own hands and write a movie role for himself. After watching a boxing match, Stallone wrote the script for Rocky very quickly, and soon studios wanted to buy the screenplay to make.
Stallone was offered $125,000 for the Rocky script, but the trouble for the studios was that Stallone wanted to star in the movie. Stallone was dead broke and turned down $125,000 in order to chase his dream.
After being rejected on that idea because he "looked and talked funny", Stallone was then offered $250,000 for the screenplay. He refused unless he could star.
He was then offered $350,000. He rejected it unless he could star in it.
The studio wanted this screenplay so badly, but were not willing to risk the money on this unknown actor.
Stallone stayed strong, and eventually the studio gave him a small amount for the script and let him star.
With his fortunes up, Stallone went to buy back his dog, but the guy he sold it to would not sell him back. Stallone offered the man $1000 for the dog, but the man refused.
Eventually, the man accepted $15,000 for the dog.
And this is why Stallone has deserved his success and why he is on this list of the best motivational stories – because he was willing to do whatever it takes to get his dream.
WANT TO BE INSPIRED EVERY DAY?
Get 1 YEAR OF INSPIRATIONAL QUOTES, delivered straight to your e-mail inbox daily!
Simon Fitzmaurice's is one of the most inspirational and motivational life stories
Next on this list of inspirational stories is a filmmaker called Simon Fitzmaurice. Now, it's unlikely you have heard of Simon, but I had to put him on this list as I had the pleasure of meeting him personally and seeing what he achieved for myself, and I found it to be incredibly inspiring.
Simon was a filmmaker who was going about living his life making his films when he was suddenly diagnosed with motor neurone disease (MND).
This disease caused Simon to become compeltely paralyzed and unable to talk, ultimately meaning his only form of communication came through the use of an eye-tracking computer on his electric wheelchair.
Yet, with this disease, Simon wrote and directed the feature film My Name is Emily (starring Evanna Lynch, Michael Smiley and George Webster). The film was nominated for eight Irish Film and Television Awards.
The sheer effort needed to make a feature film, in and of itself, is impressive enough. But doing it whilst completely paralyzed and only being able to communicate through an eye-tracking computer means Simon more than deserves to be on this list of inspirational people.
Chen Zhou's encouraging story
Chen Zhou came to fame when he attempted to climb the 1100 meter high summit of Mount Lao.
Now, by itself, that might not seem so amazing. But what if I tell you that Chen Zhou lost both his legs in a car accident and so was climbing the mountain using only his arms and hands? At 11 years old.
He used wooden boxes for shoes on his hands, but ultimately did not make it to the top.
Regardless of this, Chen Zhou deserves to be on this list as it is an inspirational story about life – that you have to keep living it even when things go wrong.
Emilia Clarke's motivational story
You may know Emilia Clarke from her role as Daenerys Targaryen in Game of Thrones. But what you may not know is that, during the early seasons of Game of Thrones, she suffered from two brain aneurysms that almost killed her.
Just before the first season of Game of Thrones, Emilia had stabbing, shooting pains in her head during a workout. She had an MRI scan, which showed the aneurysm, and was required to have surgery.
During the recovery period of her surgery, she could not string coherent sentences together and even forgot her name. She panicked and felt extreme fear over her situation.
After recovering, she went back to Game of Thrones duties, only to find she had another aneurysm which also needed to be operated on. By the third season of the show, it had doubled in size.
After the operation for this second aneurysm, Emilia awoke in massive amounts of pain. The procedure had failed and it was made clear her chances of survival were not good if they did not operate again.
This operation took place, which was successful. But the recovery process was much harder. Emilia suffered from panic attacks, and in her worst moments, the asked the medical staff to let her die.
Fortunately, Emilia recovered and is now without the aneurysms.
But to go through this and still push yourself to be at the top of your game on a major TV show deserves a lot of admiration, hence, Emilia certainly makes it on to this list as an inspirational story about life.
JK Rowling's inspirational message
If writing one of the most successful book series and movie franchises of all time does not deserve to be on this list, I don't know what does.
JK Rowling's motivational story is one of a woman who was completely broke, living off of benefits with her daughter, writing away at this story of a boy that does not know he is a wizard.
Her famed story was rejected by 12 publishers before it was finally picked up by Bloomsbury.
So if you are a writer or artist looking to get your work out in to the world, stick with it, and one day you may have a great motivational story of your own.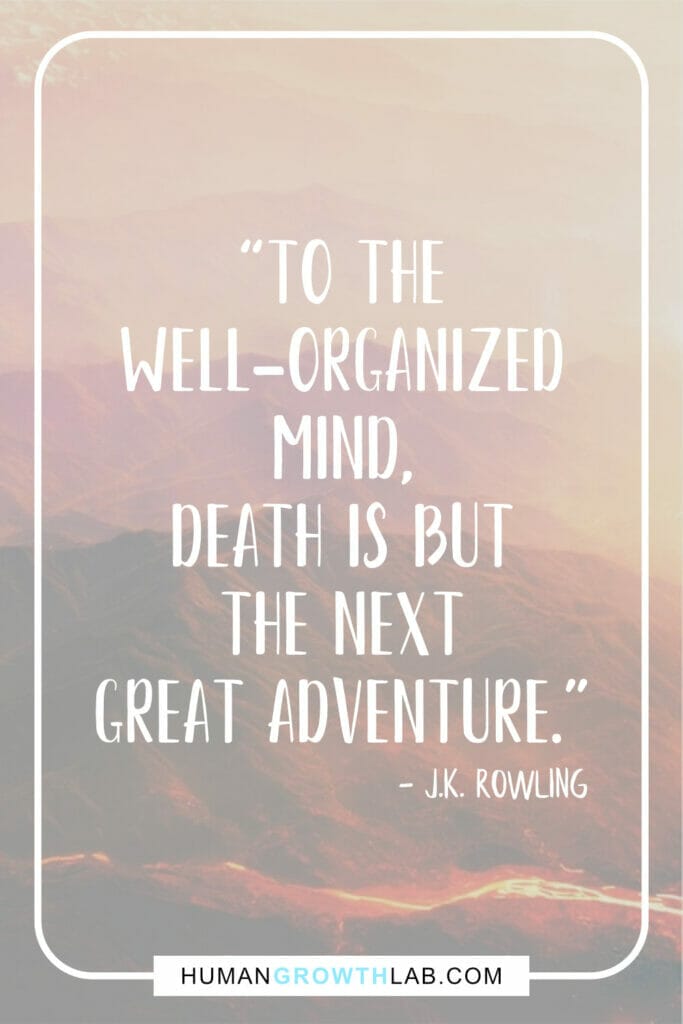 Stephen Hawking's story is motivational
Soon after his 21st birthday, Stephen Hawking was diagnosed with Amyotrophic Lateral Sclerosis (ALS), causing him to be unable to use most of his muscles.
Being told her only had between 2 and 4 years left to live, Hawking decided to put his energy in to learning as much as possible in the time he had left. In fact, Hawking attributed his success to his condition, as he was bored with life before he was diagnosed.
Hawking ultimately went on to live until the age of 76, having had a huge impact on science through his life's work.
Helen Keller's life story is inspiring
Helen Keller was both deaf and blind, yet became a famous author, lecturer and activist. She was heavily involved in the areas of workers' rights and woman's suffrage. Keller was the first deaf-blind person to earn a Bachelor of Arts degree, and was inducted in to the Alabama Women's Hall of Fame in 1971.
Keller's life story shows that you can overcome adversity to live a great life full of meaning. It would have been easy for Keller to give up, but she is one of the most inspirational people in history because of the desire she had to help the world and not let her disabilities get in the way.
Les Brown's motivational success story
Les Brown was born with his twin brother in an abandoned building in the late 1950s. They were given up for adoption and raised by a single mother on welfare for their entire childhood.
Les struggled in school and was held back twice. He was told that he had a learning disability and would never amount to anything.
Despite this, Les has gone on to become one of the most successful motivational speakers in history, and is an inspiration to people all over the world.
Les' true inspirational story is well worth listening to by the man himself.
Oskar Schindler's truly inspiring story
You may know of Oskar Schindler because of the Steven Spielberg movie, Schindler's List. But having a movie made about him is not reason enough to be on this list of most inspirational stories. It's what he did to have a movie made about him that makes him one of the most inspirational people in history.
Schindler was a German industrialist and saved the lives of 1200 Jews during the Holocaust in Nazi Germany. He employed them in his factories in Poland. Schindler did all that he could for the Jewish employees working in his factories, so that they would be protected from deportation and execution at the hands of the Nazis.
By the end of the war, Schindler had spent his entire fortune on bribes and black market purchases that kept his workers alive.
Mary Edwards Walker's real life inspirational story
Mary Edwards Walker received her medical degree in 1855, married, and started a medical practise with her husband. When the American Civil War started, Mary Edwards Walker volunteered as a surgeon, but was rejected because she was a woman, despite having had her practise for years by then.
She was offered to be a nurse but decided to volunteer as a surgeon as a civilian.
As the US Army had no female surgeon, she was only allowed to practise as a nurse, but eventually became the first female surgeon of the Union Army.
She was eventually captured by Confederate forces and accused of being a spy, when she was found behind enemy lines having treating wounded civilians.
It was her dedication to treating the wounded during the Civil War that ultimately caused her to be awarded the Medal of Honor. Not only was this the only military decoration during the Civil War, but Mary Edwards Walker is the only woman to have received the Medal of Honor.
Now that is a pretty inspiring real life motivational story!
Sojourner Truth's story of overcoming adversity
Sojourner Truth was an advocate for equality between races and sexes. She was born in to slavery in 1797 until she escaped to freedom in 1826 along with her infant daughter.
In 1828, Sojourner learned that her son (who was five years old) had been illegally sold by her previous owner to another owner in Alabama, and took her case to court. By doing this, Sojourner became one of the first black women to go to court and win the case with a white man as the opposition party.
She became known for her speeches for women's rights and against slavery, and undoubtedly has one of the most inspiring life stories.
Paulo Coelho's life story
One of the world's best-selling authors, known mostly for his book The Alchemist, Paulo Coelho grew up knowing he wanted to be a writer. The trouble was that being a writer was considered to be a dangerous profession in a country under military rule.
He read a lot, was very shy, and did not socialise very easily. His parents didn't know what to do with him, and sent him to a lunatic asylum when he was just 17 years old.
Paulo never saw himself as a victim, and even understands his parents' position when looked at from their point of view. He understands they loved him and just wanted to help him.
Ultimately, Paulo Coelho escaped the asylum three times before being released in 1967.
Difficulties come in many forms, and Paulo Coelho is inspiring for not only coming out of his experiences on the other side as a best-selling author, but also for putting in the effort to understand his parents and forgive them. His is a motivational success story that shows that anyone with any difficult upbringing can make a success of themselves.
Walt Disney has one of the most inspirational stories and it's clear why
When it comes to inspirational stories, Walt Disney's must be one of the most well-known true motivational stories.
In 1919, Walt Disney moved to Kansas City to become a newspaper artist, eventually making commercials for an ad company using cut-out animation.
Disney started to experiment with his stories using a camera, hand-drawing animations for the camera. Disney took to this, and soon opened up his own animation business.
Disney and his employee, Fred Harman, made a deal with a Kansas City theatre to screen their cartoons. They were very popular, and Disney used the profits he made to start his own studio.
Disney expanded, but, by 1923, had to declare bankruptcy.
Moving to Hollywood with his brother Roy and cartoonist Ub Iwerks, the group started the Disney Brother's Cartoon Studio, which soon changed its name to Walt Disney Studios.
From there, they were on their way up. They made the character Oswald the Lucky Rabbit, and, soon after, created Mickey Mouse and associated characters, with the first successful Mickey Mouse film being a short called "Steamboat Willie".
After some setbacks, such as the character of Oswald having its rights stolen by his distributors, Disney soon found himself and his studio well on their way to great success.
From there, Disney went on to create hundreds of movies, as well as Disneyland in California and Walt Disney World in Florida.
Walt Disney's is a great motivational success story. It's about a man who had a dream and put his entire effort in to making it happen. Whenever there were setbacks, Disney kept going to make his dream come alive.
The inspirational message to take from Disney's story is to keep your dream in your sights and to go after it with all of your faith, trust, belief and joy. If you can dream it, you can achieve it.
Other Motivational Stories and Inspirational Stories
Do you know of any other current or historical figures with motivational stories or inspirational life stories? If so, let me know in the comments. I will keep adding to this list, and hopefully it will become a resource for people to see the inspiring stories and motivational stories of people throughout history and in current times.
Have you found this post helpful? Please consider buying me a coffee!
It takes a great deal of work to put out this content and there are no ads on this site to help support it.

It would be great if you would consider buying me a coffee or tipping what you can to help keep the site running and helping people.

Thank you!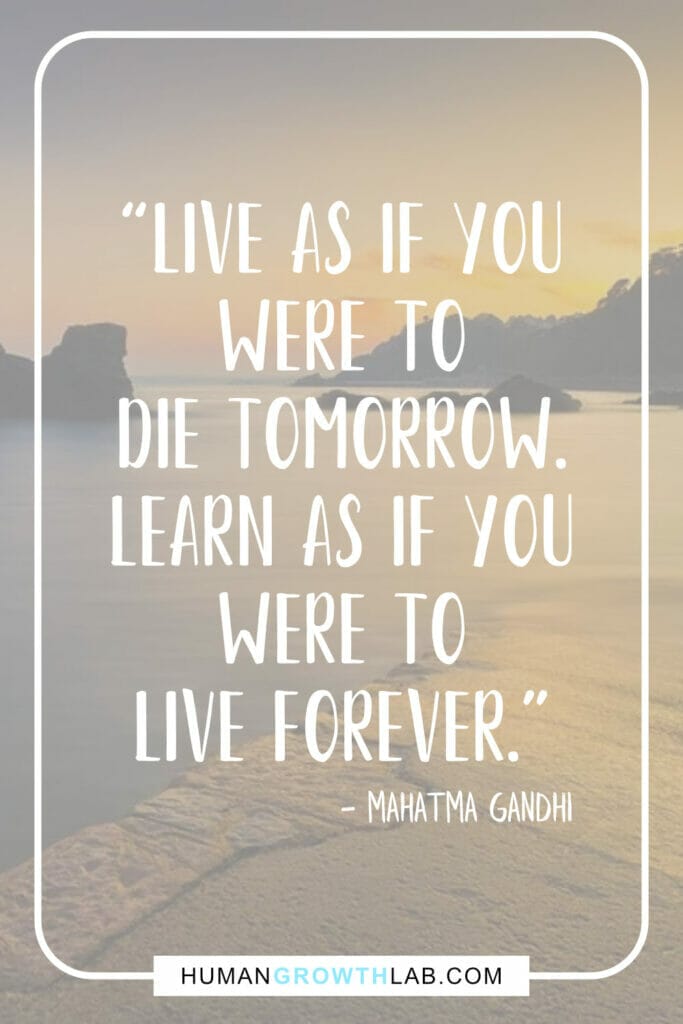 WANT TO BE INSPIRED EVERY DAY?
Get 1 YEAR OF INSPIRATIONAL QUOTES, delivered straight to your e-mail inbox daily!
Further Reading
If these motivational stories have inspired you to go after your dreams, but you are still a little unsure, that post is for you.
If you have become motivated to be successful in life by these inspirational stories, check out this post on exactly how to get success in life.
If you are inspired by these inspirational and motivational stories to overcome any difficulties you may face, no matter what, learn how to do it by keeping the phrase in your head "when nothing goes right, go left".
If you've been reading these motivational stories or the inspirational stories and you are left thinking "why do I suck at everything" when compared to these people, that post is for you.
And if you've been left thinking life sucks – well, sorry about that – but maybe these quotes about how life sucks are for you.
Featured Image: A still from Hacksaw Ridge, Copyright Summit Entertainment.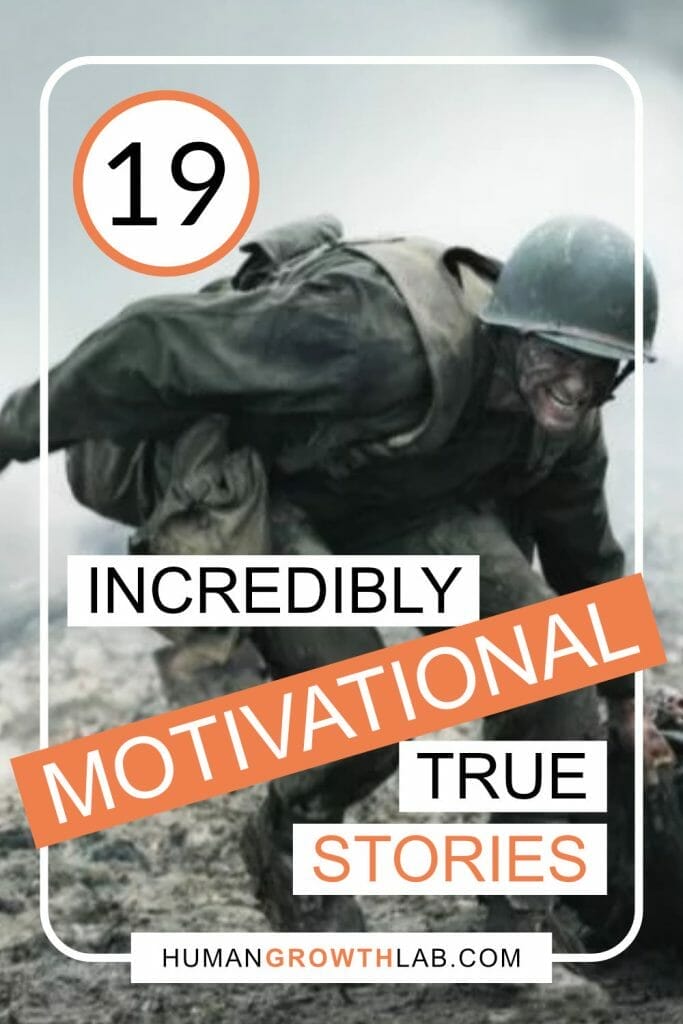 Disclaimer: Nothing on this website should be taken as medical or other professional advice. You should always seek the advice of a professional, qualified person.
Enjoyed this? Share it!
It really helps the site to grow!